Welcome to the Mustang Club of  Tampa
The 34th Annual Mustang, Shelby & Ford Roundup is Coming!
When: Saturday, November 7th, 2015
Where: Bill Currie Ford – North Dale Mabry at Hillsborough in Tampa
 
All Mustangs, Shelbys & Ford-powered Cars & Trucks welcome!
Limited to 175 cars –Register Early!!
Show Hours: 9:00 am - 4:00 pm -
Registration 9:00 am - 11:00 am -
Awards at 3:30 pm.
This show will be part of the Festival: music, free food from TJ Flats
Fun for all! An exciting display of classic and current automobile technology!
No charge to simply come and view the cars!!
PRE-REGISTRATION: $25.00 per car (received by October 31, 2015).
Awards:
 Founders Award selected by charter Club members
 Sponsor's Choice (several); Best Club Participation
 All cars registered will be judged!!
 Best of Class for every judged class
 One-quarter of each judged class receives Awards of Excellence
Definitions:
 Concours = 100% stock/factory (except tires and safety items)
 Stock = may have minor modifications and changes to tires and safety items
 Modified = four or more major modifications (engine; exhaust; interior; paint/decals; wheels;      audio; etc. - except tires and safety items)
 
During Judging Period (from 9:00 am until completed) hoods, windows and trunks open, convertible tops up.
Judging:
All Classes except Concours will use simplified MCA Occasional Driven judging format:
              Only Appearance (fit and finish) and Cleanliness will be considered.
Judged Classes:
 1 Concours – Mustangs only - 1965-1973  11 Other Ford – all other FOMOCO vehicles*
 2 Mustang – Stock – 1965 - 1968               12 Mustang – Modified – 1965 - 1968
 3 Mustang – Stock – 1969 - 1973               13 Mustang – Modified – 1969 - 1973
 4 Mustang – Stock – 1974 - 1993               14 Mustang – Modified – 1974 - 1993
 5 Mustang – Stock – 1994 - 2004               15 Mustang – Modified – 1994 - 2004
 6 Mustang – Stock – 2005 - 2009               16 Mustang – Modified – 2005 - 2009
 7 Mustang – Stock – 2010 - 2014               17 Mustang – Modified – 2010 - 2014
 8 Mustang – Stock – 2015 - current            18 Mustang – Modified – 2015 - current
 9 Shelby – 1965 - 1970                               19 Shelby & Boss – 2006 and up
10 SVT Cobra – all years (non-Shelby)        20 Mustang Aftermarket Specialty – all years**
21 Ford Exotic ( GT, Pantera, Bricklin, Jaguar, McLaren, Sunbeam Tiger, Cobra and Cobra replicas)
 * Class 11 includes all Trucks and Special Service, Military, Tractors, Fire Trucks,
Prototypes, etc.)
** Class 20 includes Roush, Saleen, Steeda, Foose, Ronaele, etc.

Display Only:
99 Display Only – not judged
On-line Registration for the 34th Annual MCT Mustang, Shelby & Ford Roundup is simple and secure
In two steps, you must complete BOTH the below registration form AND the payment process.
You will get an e-mail confirmation from the Treasurer for a successful registration only if you have completed BOTH of these two steps..
Step 1. - Complete the below online Form and Send. Your confirmation of the data sent will appear near the top of this page.
Step 2. - Complete the PayPal Payment information by scrolling near to the bottom of this page to the PayPal 'Buy Now' icon.  By selecting the Buy Now button it will take you to Paypal to complete the payment process.  You do not need a PayPal account for this.
PayPal Payment
The Pre-Registration Fee (until October 31st, 2015) is $25 (Day of Show is $30)
Your form message has been successfully sent.
You have entered the following data:
Step 1. On-line 34th Annual Mustang, Shelby & ford Roundup Registration


Please correct your input in the following fields:
Error while sending the form. Please try again later.
Alternate Option: Print and Mail 34th Annual Mustang, Shelby and Ford Roundup Registration Form
Curious new trends push Ford Mustang to pony car dominance in 2015
DETROIT, MI – Purists of the Ford Mustang often love the car for its brawn. Die-hard fans will typically opt for the 5.0-liter V-8, and wouldn't fathom a pony car with a four-cylinder engine.
But they are not the only Mustang buyers, Ford knows. Armed with data from J.D. Power, the Dearborn automaker said it has discovered some trends that bode well for its signature pony car in an already hot sports car segment.
The data says that buyers ages 16 to 35 years old account for 47 percent of market share for 2015 Mustang versus 30 percent for 2014 model. Ford points to its 310-horsepower, 2.3-liter EcoBoost four-cylinder engine as the reason for the expansion among that demographic.
It is reminiscent of the Ford Probe, company spokesman Chris Terry said.
When the Ford Probe came out in 1989, Ford had mulled replacing the Mustang with the compact sports car. It sounds absurd, but this was a trend at the time: buyers were going for smaller, more fuel-efficient cars like the Acura Integra and Toyota Celica. The popularity of the Ford Probe with younger buyers then now mirrors the EcoBoost Mustang's resonance with buyers of today, Terry said. "These young guys don't want a V-8 all the time," he said. "So that's exactly what's happening here years later."
The good news for Ford, and indeed other automakers in the pony car segment, is that loyalists have been buying the heftier-engine models, too. Through the first three quarters of 2015, total sales of the Mustang have jumped 61 percent over the same period in 2014 to 96,225 units, putting it at the top of the Detroit Three's pony cars in terms of sales volume.
For the Dodge Challenger, sales rose 35 percent year-over-year in the first nine months of 2015 to 51,949 units.
During that same period, sales of the Chevrolet Camaro dipped 12 percent to 61,544 unit,s though Chevy unveiled a new, sixth-generation model that is set to hit dealerships soon.
There is a geographical trend that Ford is excited about, too. Mustang sales are taking off in Southern California, and buyers there appear to favor the EcoBoost model. "According to J.D. Power PIN data, the conquest rate for EcoBoost Mustang is just over 56 percent in Southern California," said Erich Merkle, Ford sales analyst. "Almost all of our Mustang growth there can be attributed to EcoBoost."
The Mustangs are moving quickly too, something the company said underscores the demand for the pony cars there. J.D. Power says Mustangs sit on dealer lots for just 16 days in Southern California, compared with the industry average 60 days. What does that mean for the rest of the country? Terry said Southern California is seen as a trend-setter.
But regardless of where the rest of the country looks for car-buying cues, Terry said the growth in Mustang sales there bucks a trend Ford and other domestic automakers had been accustomed to: younger buyers in SoCal have typically favored foreign nameplates.
Terry concurred that Ford had been somewhat concerned about losing some purists when the company added the four-cylinder engine option to the Mustang stable of the 5.0L V-8 and the 3.7L V-6. "It turns out it worked better than anyone could have guessed," he said.
David Muller is the automotive and business reporter for MLive Media Group in Detroit. Email him at dmuller@mlive.com, follow him on Twitter or find him on Facebook.
What Do Women Want? This Year, a Ford Mustang
(The pony classic accounts for 36% of sportscars bought by women)
September 8, 2015 — 7:00 AM EDT
Ladies love pony cars.
At least they do this year. According to sales results for the first half of 2015, the new Ford Mustang is the best-selling sports car in the world—and the best-selling sports car among women in the United States.
Global sales of the Mustang hit 76,124 vehicles for the first half of 2015, up 56% year to date, according to Polk/IHS global sales data. Total sales among women in particular are up 40 percent over last year, giving Mustang 36 percent of the entire female sports car market.
"Women like it because it is a practical choice," said Erich Merkle, Ford's U.S. sales analyst. "It looks great, and it provides good performance and fuel efficiency."
Merkle said ladies tend to choose the (4-cylinder, more efficient) EcoBoost engine option over the V6 and V8 versions more often than men. They also tend to choose the drop-top option slightly more often than their male counterparts, he said: 15 percent of female Mustang buyers choose the convertible versus 13 percent for men.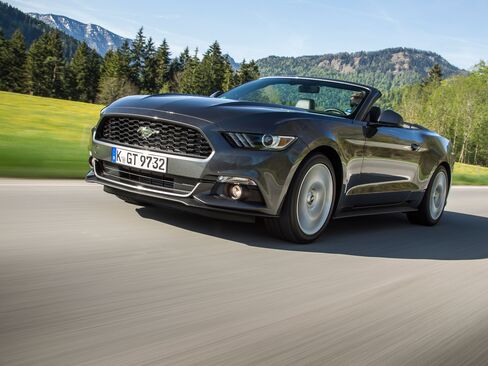 Women buyers stand to help boost sales in international markets. This is the first year Mustang is available to customers in more than 100 global markets including the United Kingdom, Australia, South Africa and Japan. It's the first time many of them will have access to a right-hand-drive model.  
In the U.K., Ford has logged more than 2,000 orders for the Mustang since January and scheduled extra production to meet the greater-than-expected demand. Several European sales lists sold out in minutes, according to Ford. Australia and New Zealand have each exceeded demand as well, with 3,000 orders placed in Australia and 400 in New Zealand.
In China, which saw sales start last winter, Mustang is already nearly the top-selling sports car there, with popular hubs in Beijing, Guangdong, and Shanghai. Merkle chalks up the enthusiasm to unfettered love for traditional automotive muscle.
"Passion for the car is universal," he said. "It's an American Icon."
MCT Calendar. Upcoming events / Cruise-ins / Club Events / & Club Meetings